Beauty's Mindless Attention
The Drawings of Irma Blank
"Today communication, information, is capillary, as excessive as it is useless; it tends to invade, to dominate our life. The negative effects on our mental and physical health are well known." —Irma Blank, 2019
Irma Blank, in her ninth decade of life, what she calls her "second life," achieves a suspension by means of her drawing that may be "writing." She says on this point that what she is doing is writing, not words that make writing what it essentially is but the gesture. Her suspension is in the action between filling and emptying, this resting on another paradoxical relationship of emptiness to repetition, where to fill is to empty and vice versa. Her practice, reaching from 1968 to the present, is a contribution of great value to our way of doing and thinking about what matters in art. A number of artists of her generation have shared this commitment to the paradox of doing art as an "emptying of space," artists such as Robert Ryman, Agnes Martin and Ettore Spalletti, and so many others, extending even to Frank Stella's late 1950s line paintings, the artist who summarized so much with his statement at that time: "What you see is what you see." It may be the case that tautology in art is not unfamiliar, but Blank once again shows us the feeling of compulsion engendered by its appearance.
Born in 1934, Irma Blank was a child at the beginning of WWII. Ten years after the war's conclusion, she moved from northern Germany to Italy. Her early professional life began at the same moment as Umberto Eco's, who arrived on the scene with his book Opera Aperta (The Open Work), a book enormously influential at the time, an influence that continues today. At that same moment Italian curator Germano Celant gathered a number of artists around his theme of an "arte povera." Initially, arte povera was a rejection of bourgeois culture, the world of industrial mass production, enforced consumption and "the system." This rejection also contained a proposal by which art would be recognized as "process" in which the artist's gesture became both the subject and the object of the artwork, privileging spontaneity, action, actual space and even nature—in other words, the arena of the work. These together added up to an art conceived as poem rather than system, or as affect rather than information. Applicable is the work of artists such as John Cage, who adopted a concept of notation and practices in music from Asian spiritual interests, and proposed a new art in which time itself became the subject. Such work is remarked in a number of ways and its criterion is obvious: meticulousness—the work must be done with what the Canadian artist practitioner Garry Neill Kennedy astutely called "mindless attention" (Roald Nasgaard, Garry Neill Kennedy, Art Gallery of Ontario Catalogue, 1978). Equally important are the drawings of Irma Blank, which function similarly to the "empty canvas, silent concert" practices of Cage and other neo-Dada artists. But she has pursued repetition rather than chance in her practice, although her works, no doubt, have a degree of porosity.
Irma Blank's current and ongoing series of drawings titled "Second Life" is provocatively reduced, haptic and deskilled. These page-sized drawings consist of hand-drawn lines, horizontal and each of equal length, arranged one after another on the page, often with equal spacing between, this varying from drawing to drawing. Her lines do not entirely cross the page but stop short, leaving a space of white paper on all four sides. This suggests a framing or placement attuned to the geometry of the surface on which they are arranged. They are drawn with felt pens—red, blue or black but using one colour to a drawing or series—on tracing paper. At a glance we might be tempted to say they are "all the same." However, with a slightly more attentive glance we can see what is more particular to each line, each page, and searching out this particularity motivates our attention, although there is the sense that these differences make no difference as there is no hierarchy in place.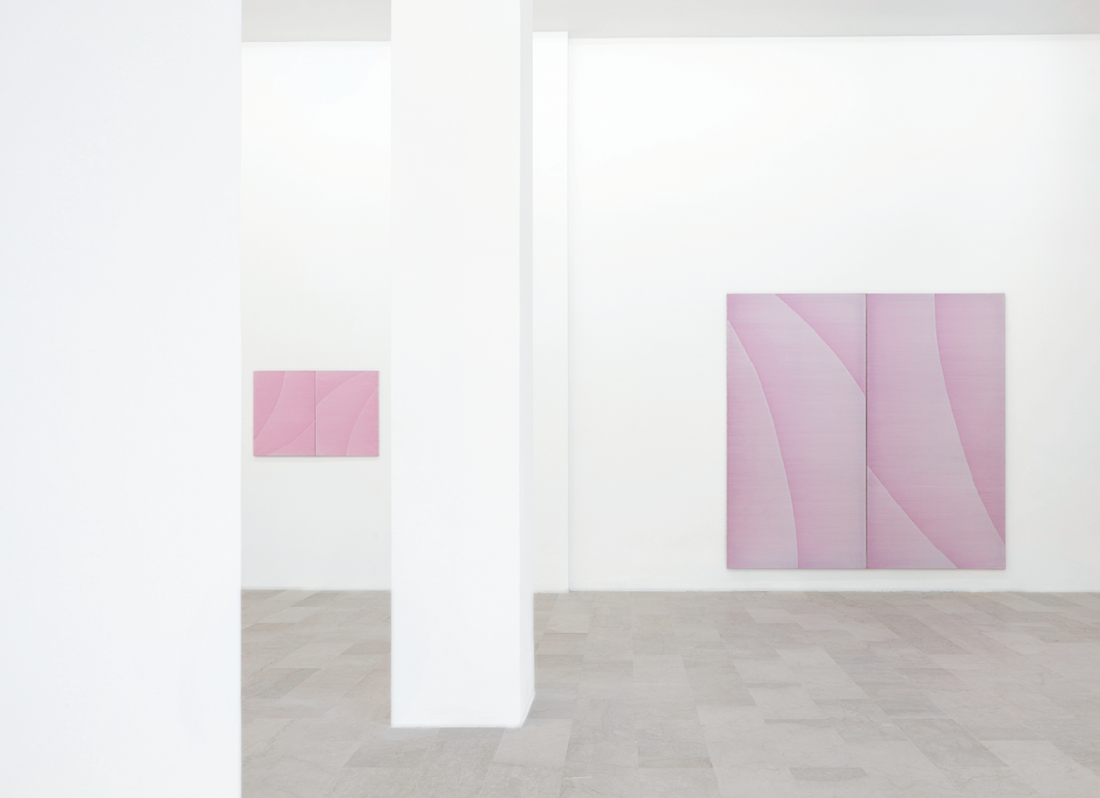 Strangely, it seems essential to her drawings that she calls them "writings" and that she identifies this calling as writing when it seems evident that what she is making are drawings and that she is drawing, or even painting. I have asked myself why I find these drawings so compelling, so intriguing. Looking into a page—perhaps a double pair of facing pages with lines drawn horizontally—offers an experience of tautology itself; that is, I feel and recognize the attraction of attraction, the attraction of repetition. I am drawn by the desire for this precise contact with drawing, its tactile contact being the tracing of a hand in motion, of its path across the page, scraping, gliding or scratching, depending on the specific surface. This is drawing in both the common and the literary sense of the word. We could simply identify this practice as works of beauty.
…to continue reading, order a copy of Issue #154 here, or Subscribe today.