"A Section of Now: Social Norms and Rituals as Sites for Architectural Intervention"
"Architecture is always intended to be a mirror of society," says curator Giovanna Borasi, in the video introduction to "A Section of Now" at the Canadian Centre for Architecture (CCA), available on YouTube. The statement causes me to pause and look up from my screen to scan the environment outside the window of my home. As I look across the street from my rented apartment to those that are owned (I saw the realtor signs), my reflection, as I see it, takes on a precarious form. It is with this metaphor in mind that I enter "A Section of Now," where I am prepared to seek, confront, or occasionally avoid glimpses of myself in architecture's mirror.
I am inserting myself in the story and telling it in first person because placement, both temporally and spatially, is key to the experience of "A Section of Now"—in fact, it's what is asked of you. The show, according to Borasi, is intended as an intervention and an opportunity for architecture to find ways to resynchronize itself with the rapid societal changes that have outpaced it. Maybe I bristle a little at this reference to architecture as monolithic and agentic, as it exempts the many local and global stakeholders who have leveraged both concept and material to contribute simultaneously to real-estate booms, housing crises and climate change. I am also uneasy with the essentializing of "society," which excludes the diversity of experience and circumstances that is captured under the umbrella of the "West" (and indeed the show demonstrates a strong urban European focus). A mandate of the exhibition, which is supported by a book replete with essays and images, and an excellent online series of interpretative podcasts, is to encourage viewers to consider how they stand in relation to the many objects and ideas presented in the show. By extension, this relative localization (a kind of conceptual "geolocation") is to help visitors better understand the historical moment in which they live.
The exhibition is divided into six sections: family, ownership, agency, labour, obsessions and life cycles. Each theme is given its own room in the gallery, although there is a great deal of conceptual hand holding across thresholds. Throughout all the rooms, there is an enduring trace of the modernist dream of universalist solutions to localized problems through ideal design, and within these clean lines and smooth surfaces, there is evidence of the unrepresented, living in less ideal conditions. In the first room, under the title of "family," visitors are greeted by two beds, objects that will each contribute to the global tenor of the show: Triangular Bed, 2014–15, by architectural firm Meyer-Grohbrügge & Chermayeff; and SNOO Smart Sleeper, 2016, by Happiest Baby with fuseproject. Triangular Bed is just that—a triangular-shaped bed. It is dressed in white bedding; at its head are three pillows (you can't think about this too much). Described as a space for cuddling, reading, or working (like a normal bed), it is designed to accommodate changing norms of family and cohabitation—from polyamorous couples to bed-sharing families, to groups of friends. For me, the bed functions better conceptually rather than practically—three pillows and the space they occupy do not a destruction of norms make. The more profound disruption is in causing new forms of spatial negotiation as you engage with it, presumably in a bedroom (if you were to desire a triangular bed). This shape is important in terms of the show as the triangle becomes the early-established outlier to the dominant geometry of the show, which is the rectangle (that austere shape of modernism). Rectangles repeat in the 3D models of high-rise towers and the plexiglass containers protecting them (a material that within the COVID context perhaps epitomizes the main argument of the show that structural logic remains continuously outpaced by changing atmospheres).
Next to Triangular Bed is the SNOO Smart Sleeper, a "smart" baby bassinet, which from a distance looks not so unlike a traditional (meaning unwired) model. Made of a creamy white diaphanous fabric stretched around an oval frame set upon a dark brown base on outstretched metal legs, the bassinet is said to "blend robotic and human caregiving." Designed to emulate a mother's womb, it is equipped with sensors, speakers and a robotic engine that activates a rocking motion, while apps collect data towards sleep reports. The text that accompanies the item explains how, with these functions, "the parents are relieved of being directly attentive and reactive," concluding with "the optimization of sleep, bodily performance, and self-care starts with childhood." I'm not sure whether the text is sincere or ironic (such is the contemporary experience). However, the use of such 21st-century keywords as "optimization," "performance" and "self-care," and the interface between human and machine aimed at the achievement of these states, function well in establishing the sometimes disturbing technological register that informs "A Section of Now" in the many hybrid objects it houses.
The "ownership" room interrogates changing perspectives about property ownership, which for many (myself included) is now an unattainable milestone, and so considers alternative living arrangements such as squatting, cooperative space sharing and app-enabled intergenerational living arrangements. A challenge of land ownership is conceptualized in terra0, 2016, a collaborative project involving theorists, developers and researchers at the Berlin University of the Arts, which imagines the possibility of self-managing ecosystems using blockchain technology. In this prototypical case a small forest outside Berlin will strive towards self-ownership through the cryptocurrency market and what is referred to as a "smart contract" between it and the initial developers. The only thing is that cryptocurrency is energy-hungry and environmentally destructive. This "glitch" is of course recognized in the plan (right?) and then becomes emblematic of so many "smart" designs of the moment, which take the form of an infinity loop of questions, problems and solutions.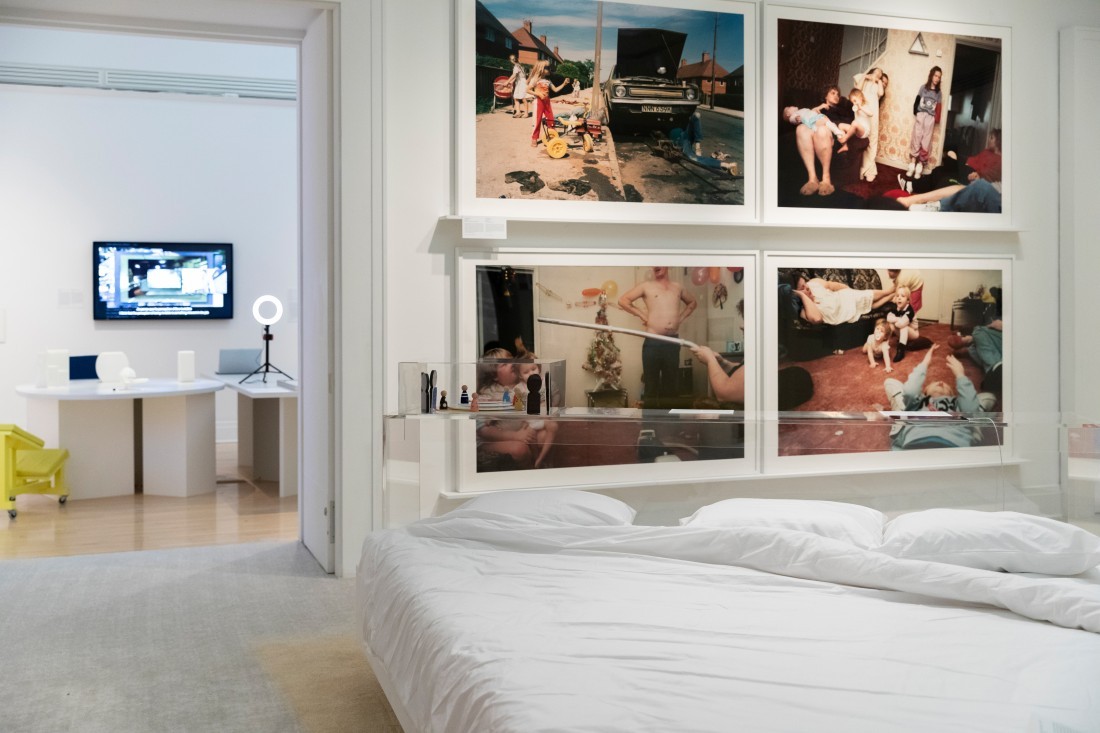 The "agency" room is predominantly populated by large colour photographic prints of people engaged in the act of protest. At the far end of the room is a line of large portraits featuring young adults in defiant postures holding cardboard placards whose roughly painted slogans express anger at the failings of the global response to the climate crisis. The prints are accompanied by various, otherwise benign objects that, through their implications in social movements, acquired new significance, such as a tent (Occupy Wall Street), a reflective yellow vest (gilets jaunes movement) and a mason jar (container and icon of the zero-waste lifestyle). For me, this room and the spirit it held might have been better described by the keyword "resistance," which is arguably one of the most important registers of now. In the "life cycles" room there are designs that cater to life's poles, from pre-conception to afterlife. The Way Self-Insemination Kit, 2019, by Kamila Rudnicka is a hybrid sex toy/ intrauterine insemination device marketed as intermediary before more clinical (and expensive) procedures such as in vitro fertilization. Shared Baby, 2011–2019, by Ai Hasegawa is a conceptual project that interrogates the possibilities of in vitro gametogenesis, a technique that utilizes genome editing to permit the contribution of genetic material to an embryo, beyond two biological parents. Here the project is represented by a white, featureless, child-like mannequin wearing a bright yellow raincoat tailored with six arms (only two are filled), wearing matching yellow rainboots. While birth is approached internally, the "problem" of death is looked at from an atmospheric perspective. There are several "modern" takes on the crematorium, such as Crematorium (Office 165), 2014, by Office KGDVS, which recentres cremation into the social context of mourning by permitting increased visibility, to post-death treatments (here approached as ritual), while emissions technology distills the dark smoke produced by the ovens to a more discreet atmospheric trace. Beyond corporeal post-death procedures, Constellation Park, 2019, by LATENT Productions and Columbia GSAPP's DeathLAB, focuses on emotional and spiritual aspects via an illuminated tribute to the deceased, whose light is generated by biomass. These temporal "mourning lights" eventually fade out at the limit of their own life cycles to mark the mourners' transition from grief to acceptance.
Does "A Section of Now" give an opportunity for architecture and society to calibrate form and movement? Maybe. Framed as a part of the CCA's year-long investigation "Catching Up with Life," what it certainly achieves is a demonstration of the asymmetry of the global distribution of wealth that permits the possibility of design and the luxury of obsession and the means to fulfill it. It also reveals the increasingly complex conundrum of design in a world defined by simultaneous and interconnected crises of climate change, a global pandemic and misinformation. More than a spatial intervention, it is a temporal one. Visitors primed by digital flow and constant connectivity to consume as much as possible as quickly as possible must "make time" to metabolize the show's breadth and engage in slow looking and lateral reading of the environment to understand how each item converses with the next, the greater collection, the world and the self. ❚
"A Section of Now: Social Norms and Rituals as Sites for Architectural Intervention" was exhibited at the Main Galleries of the Canadian Centre for Architecture, Montreal, from November 13, 2021, to May 1, 2022.
Tracy Valcourt lives and writes in Montreal, where she recently completed her PhD in Humanities at Concordia University.