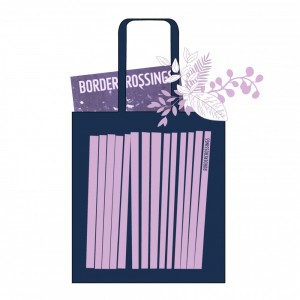 Alone but thinking of others?
Let someone know you're thinking of them with a gift subscription - limited edition tote included!
Border Crossings looks at contemporary art with interest, passion and thoroughness. The magazine covers painting, photography, film and video. We report on directions in dance, architecture, music, theater and popular culture.
We publish essays, fiction and poetry. Every issue features artist's pages and these, and everything else between our covers is previously unpublished. You'll see it here first.
Our readers say:
"My favourite for good writing and timely commentary. I often go back to older issues and re-read the articles. I can pick one off my shelf at any time and as soon as I scan it, I'm hooked."

"I constantly endorse Border Crossings to friends because it is topically diverse, national, and well-written and well-edited."

"Wonderful, vibrant magazine."

"Quality and substance."