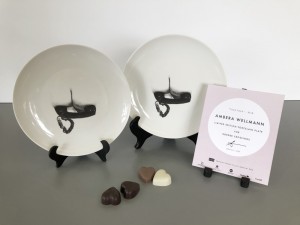 Ambera Wellman

'Tock Tock," 2018

Porcelain, Edition / 250

Price | $150



Ambera Wellmann's "Tock Tock," presents a perfect opportunity to call up a sweetheart with an invitation to share a sweet treat on this cheeky limited edition porcelain plate.

When it was introduced by Border Crossings it generated lots of lively conversation. The paintings and drawings of Ambera Wellmann, the Canadian-born, currently Mexico City-based artist are in high demand and there are waiting lists for her work. "Tock Tock" offers a broader opportunity to enter the whirled according to Wellmann.

Originally offered at $175, for Valentines day it is $150. Purchase one for yourself and one for your sweetie : a pair for $225. Until February 14, 2020.

"Tock Tock" is available exclusively through Border Crossings.

Being in love means being willing to ruin yourself for the other person
- Susan Sontag

For Shipping rates/options please see below:
To ship within Canada please add:

(via Canada Post) + $15.00 CAD
(via Fed-Ex) + $20.00 CAD [ will ship in 1 - 5 business days]


To ship to the US please add:

(via Canada Post) + $18.00 CAD
(via Fed-Ex) + $26.00 CAD [ will ship in 4 - 6 business days]


To ship internationally please add:

(via Canada Post) + $22.00 CAD [ allow 4 - 8 weeks for delivery]
(via Fed-Ex) + $130.00 CAD [ shipping times vary depending on country]

*NOTE:Purchasers in Winnipeg are also welcome to pick up their plate at the Border Crossings office : 500-70 Arthur St, Winnipeg, MB R3B 1G7 between 9:00am and 5:00pm, Monday through Friday.