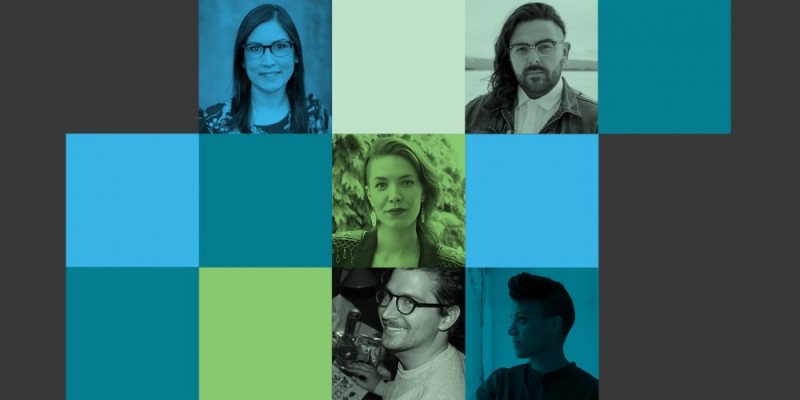 Border Crossings is pleased to share the 2018 Sobey Art Award Shortist!
Established in 2002 by the Sobey Art Foundation, the Sobey Art Award aims to promote new developments in contemporary Canadian art and provide opportunities for artists, bringing them national and international attention. A total of $240,000 CAD prize money is awarded: $100,000 to the overall winner, $25,000 to each of the four shortlisted artists, and $2,000 to each of the remaining twenty longlisted artists.
The Sobey Art Award Shortlisted Artists are:
Jeneen Frei Njootli | West Coast & Yukon
Joi T. Arcand | Prairies & North
Kapwani Kiwanga | Ontario
Jon Rafman | Quebec
Jordan Bennett | Atlantic
To discover more about the shortlisted artists click here.
The 2018 international jury, chaired by National Gallery of Canada's Senior Curator of Contemporary Art, Josée Drouin-Brisebois, is composed of curators from five designated regions in Canada, as well as one international juror: Heather Igloliorte, Independent Curator and Concordia University Research Chair in Indigenous Art History and Community Engagement, for the Atlantic Provinces; Jean-François Bélisle, Executive Director and Chief Curator, Musée d'art de Joliette, for the Quebec region; November Paynter, Director of Programs, Museum of Contemporary Art Toronto Canada, for the Ontario region; Kristy Trinier, Independent Curator, for the Prairies and the North region; Melanie O'Brian, Director, Simon Fraser University Galleries, for the West Coast and Yukon; and international juror, Séamus Kealy, Director, Salzburger Kunstverein.
The work of the five Sobey Art Award finalists will be featured in a special exhibition at the National Gallery of Canada from October 3, 2018 to February 10, 2019. The exhibition of finalists alternates each year between the National Gallery of Canada and other arts institutions across the country.
About the Sobey Art Award
As one of the world's most prestigious contemporary art prizes, the Sobey Art Award is awarded to a visual artist age 40 and under who has exhibited in a public or commercial art gallery within 18 months of being nominated. Presented annually, the award celebrates some of Canada's most exciting young artists and provides significant financial recognition – a total of $240,000 in prize money, including a top prize of $100,000 for the winner, $25,000 for the four shortlisted finalists, and $2,000 each for the longlisted artists. Past award recipients include Jeremy Shaw, Brian Jungen, Jean-Pierre Gauthier, Annie Pootoogook, Michel de Broin, Tim Lee, David Altmejd, Daniel Barrow, Daniel Young & Christian Giroux, Raphaëlle de Groot, Duane Linklater, Nadia Myre, and Abbas Akhavan. The 2017 Sobey Art Award winner was Ursula Johnson.
About the Sobey Art Foundation
The Sobey Art Foundation was established in 1981 with a mandate to carry on the work of entrepreneur and business leader, the late Frank H. Sobey, to collect and preserve representative examples of 19th- and 20th-century Canadian art. In one of the finest private collections of its kind, the Sobey Art Foundation has assembled outstanding examples from Canadian Masters such as Cornelius Krieghoff, Tom Thomson and J. E. H. MacDonald. The collection is on view in the former home of Frank Sobey and his wife Irene in Pictou County, Nova Scotia.
About the National Gallery of Canada
The National Gallery of Canada is home to the most important collections of historical and contemporary Canadian art. The Gallery also maintains Canada's premier collection of European Art from the 14th to the 21st centuries, as well as important works of American, Asian and Indigenous Art and renowned international collections of prints, drawings and photographs. In 2015, the National Gallery of Canada established the Canadian Photography Institute, a global multidisciplinary research center dedicated to the history, evolution and future of photography. Created in 1880, the National Gallery of Canada has played a key role in Canadian culture for well over a century. Among its principal missions is to increase access to excellent works of art for all Canadians.